Guided Tours of the Village
Canterbury Shaker Village is a National Historic Landmark and museum nestled among the rolling hills of wooded central New Hampshire. With a distinctive campus of 25 original and 4 reconstructed Shaker buildings, as well as nearly 700 acres of forests, open fields bordered by stone walls, well-tended gardens and picturesque mill ponds, Canterbury Shaker Village is a must-see for anyone touring the region.
Come take a tour, explore the stories of the Canterbury Shakers, and discover the core values that shaped their collective communities. The Shakers are known for their impact on agriculture, technology, modern architecture, and design.

Guided Tours 

  |  Tickets Available Now    
*Please note that during the off-season, Private Guided Tours are available by appointment. Once you have decided which tour you would like to take from the listing below, you can then proceed to buy your tickets at which time you will be given the opportunity to choose your tour date and the number of visitors in your group.
For all tours, masks are required for all visitors while indoors, including at the Village Store and in restrooms. Masks are optional outdoors.
GUIDED TOUR SCHEDULE 

Private Guided Tours are always available by appointment. Please call 603-783-9511 x 202 or email jlessard@shakers.org to schedule. 
The Village's regularly scheduled tour program will resume in the spring. Thank you!
GUIDED TOUR PRICING 
Admittance to the grounds is always free. 

Outdoor Tours  |  $20
Indoor Tours  |  $25
Private Tours | $50
Visitors age 25 and under are free.
Groups of 10+: please see below.
Members are free for General Outdoor Tours, and half-price for all Indoor Tours. To check your membership status or for more information, please 603-783-9511 x 205.
A Cultural Landscape — An Outdoor Guided Tour
This outdoor tour highlights the Shakers' contributions to architectural design,
landscaping, waterworks, and masonry. Visitors will examine the landscape around them and learn about the decisions that the Shakers made – from planting maple trees and laying out a productive vegetable garden to building rock walls, creating an elaborate system of millponds, and making decisions about the external features of the Village (planting trees, clearing agricultural ground, etc.) as well as architectural building style and paint color.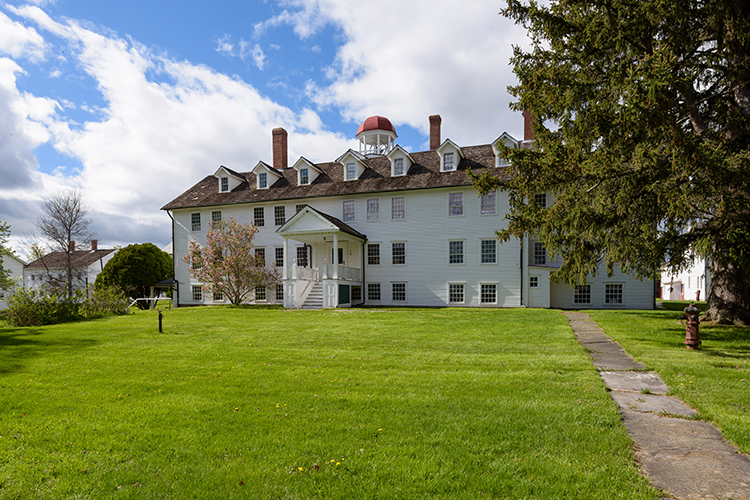 Shaker Stories — A View Inside the Dwelling House, Meeting House, Laundry & Schoolhouse
Explore how the Shakers journeyed from being a misunderstood and persecuted people to becoming one of the most intriguing and successful religious communities in our nation's history. Learn how their vision of "Heaven on Earth" reflects communal life, religious practices, gender equality, pacifism, simplicity, and innovative contributions to American history and culture.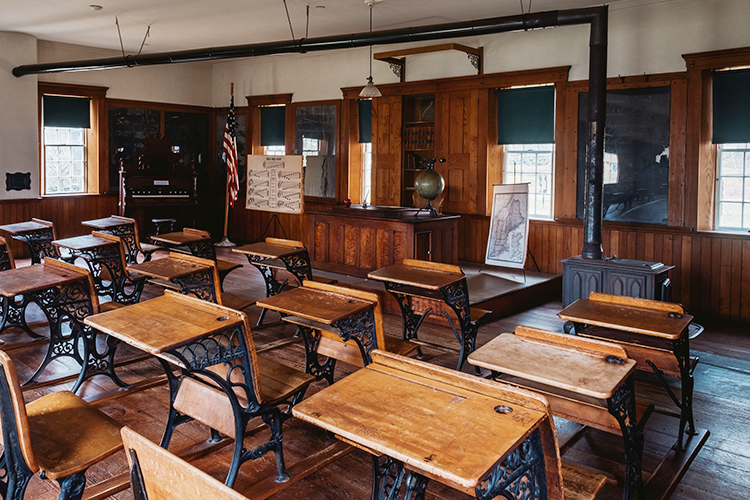 Innovations & Inventions Tour — Grounds Overlooking Mill Pond, Laundry, Dwelling House, School House, Blinn's Arboretum 
The Shakers were pioneers in developing seeds, medicines, furniture, textiles, and labor-saving inventions, and their innovations shine a light on integral elements of their daily life. The Innovations & Inventions Tour examines the Shakers' approach of experimenting, failing, and trying all over again and how that attitude influenced their dedication to quality, autonomy, shared knowledge, and community values. Through these explorations, we will also consider how their numerous/countless innovations are relevant today.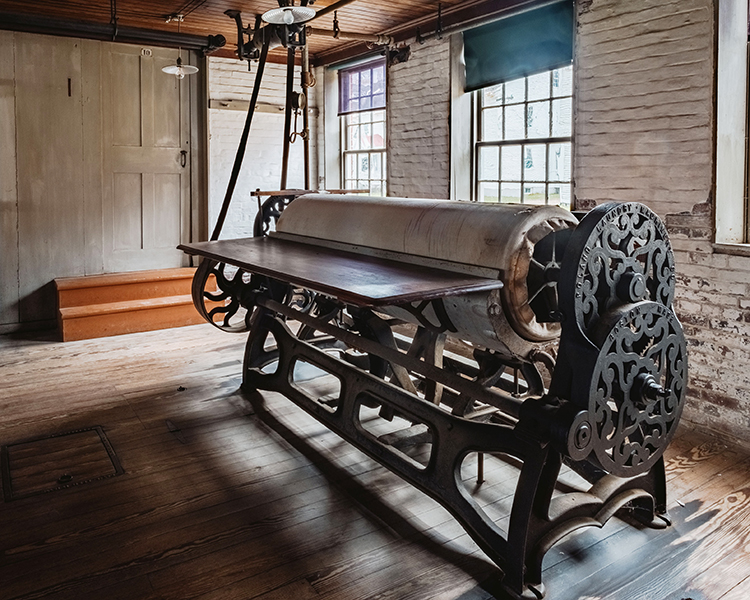 Contentment & Well-Being Tour — Infirmary, Ministry Shop
The COVID-19 pandemic has substantially affected our daily lives as we continue to grapple with our physical and emotional well-being. The Well-Being Tour explores the way the Shakers built and sustained resiliency through worship, societal structure, connection with nature, medicinal innovation, and mindfulness. In addition, we'll look at ways to incorporate aspects of Shaker well-being into our individual and collective resilience today.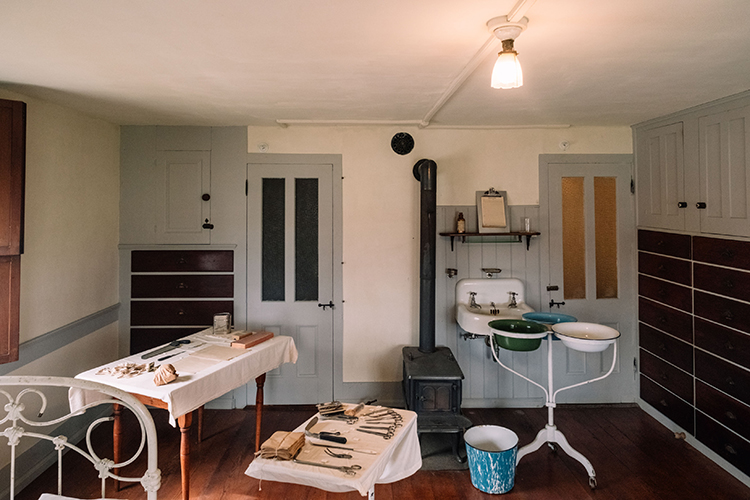 Please keep the following in mind: 
Indoor tours are limited to 30 people.
Here at the Village, the safety of our visitors, staff, and volunteers is the most important priority. For all tours, masks are required for all visitors while indoors, including at the Village Store and in restrooms. Masks are optional outdoors. 
Tickets are required for all tours.  Visitors age 25 and under are free but a ticket still needs to be reserved for them in order to confirm capacity. Members receive free admission to General Outdoor Tours, and half-price admission for all Indoor Tours. Please also be sure to reserve a ticket for member admission. Please call 603-783-9511 x 205 to check your membership status.
It is best to purchase your tickets ahead of time online, but walk-ins will be accommodated based on availability. 
Each General Tour is one hour in length and each Thematic Tour is one hour and fifteen minutes in length.
Currently, the Village is not able to offer food service. The Village Store will have some light snacks and beverages, but we recommend bringing a picnic lunch to enjoy during your visit!
After Your Tour
Many visitors take a guided tour and then wander through the Village on their own — grab a free Village map at the kiosk.  Others prefer to take a hike on one of our beautiful trails. You can also visit The Shaker Store for a little Shaker-inspired shopping.  Or, just relax and enjoy a picnic on the grounds —you can bring your own picnic but there are also light snacks available at The Shaker Store. 
Schools and Groups  |  The Village offers tours for schools, organizations, and groups of 10+ at reduced rates. For more information, pricing, or to make a reservation, please call 603-783-9511 x 202 or email education@shakers.org.
The Village Store
Currently, The Village Store is open on Saturdays from 11 am to 4 pm, during special events, and by appointment any day of the week. To schedule, please call 603-783-9511 x 205 or email info@shakers.org.
The Village Store is a well-stocked emporium of Shaker-inspired handicrafts and related gifts. Find an exceptional assortment of baskets, brooms, oval boxes, carriers, and other traditional Shaker-style objects, plus books, music, jewelry, candles, cards, and much more. Don't miss our signature dark chocolate bar studded with bits of maple toffee and wrapped in a colorful label that shows Shaker sisters making maple candy a hundred years ago.
Dining
Due to Covid-19, dining at the Village is currently unavailable. See below for dining options in the future. 
Sandwiches, soups, salads, chips, cookies, pastries and drinks are all available in the self-service Museum Café located in the Creamery. Another available option is our Horse Barn, adjacent to the main parking lot at the Museum's entrance, which allows for private dining. Both indoor and outdoor seating is available. Pre-ordered bag lunches are also available. Please inquire when you make your reservation. Café hours vary.
Average Visit
2 ½ to 3 hours.
Fees and Payment
Groups must make a reservation to receive the group rate of $15. per person. This includes a private group tour, scheduled at your preferred time during regular hours of operation, and complementary admission for the bus driver and tour escort.  
Groups of fewer than 20 may choose to pay a flat fee of $280 for a private group tour. Regular Adult admission is $20.
Full payment is due upon arrival at the Village and all groups must confirm final numbers and arrival times seven days in advance. Failure to do so may result in additional charges.
For further information or to make a reservation, please call 603-783-9511, ext. 205 or info@shakers.org
In many of the historic buildings, you can watch and talk to traditional artisans as they demonstrate crafts that were part of everyday life for both the Shakers and their "Worldly" counterparts. Admission staff will provide the demonstration schedule when you arrive.
Traditional crafts-demonstrations include: