Canterbury Shaker Village Offers Tours of the Past, Wisdom for the Future
While people often look toward the future, Canterbury Shaker Village's guided daily tours offer insights into the past that are relevant today. "The Shaker's reputation for craftsmanship, innovation, and invention stems from the belief that all work is a form of prayer and an act of worship," explained Lead Tour Guide Dick Bennett. "That simple belief provided a system of analysis, planning, and quality control that has yet to be equaled."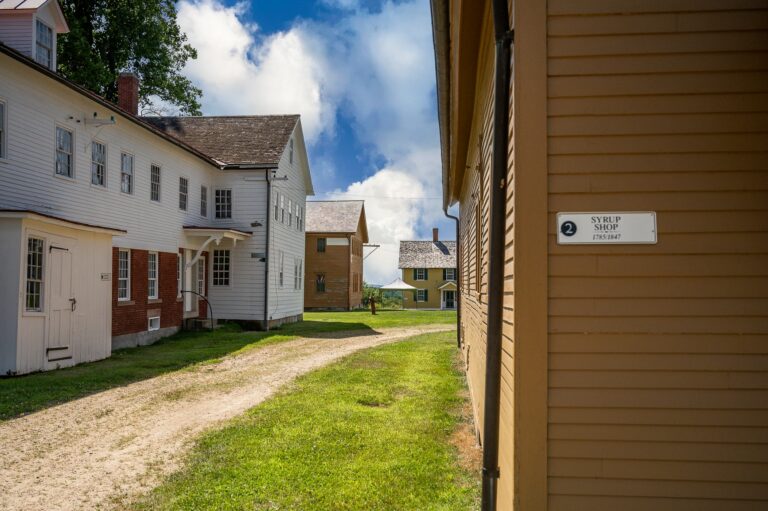 According to Leslie Nolan, executive director of the Village, their "system" of beliefs "shocked" their contemporaries in 18th and 19th century America. "They challenged almost every mainstream ideal of American society during their time," she said. "Shakers believed in communal ownership, pacifism, dancing in worship, equality of the sexes, celibacy, and living simply."  
Shakers also believed in the religious power of dancing—an idea considered heretical by their contemporaries. To the Shakers, dancing signified a communal—not individual—relationship with God, which was a powerful symbol of their cultural belief system," added Nolan.  
For Bennett, highlighting this belief system is one of the takeaways visitors experience on their tours. "The Shaker's unique beliefs seem to have imbued the Village with a multidimensional quality that leaves very few people, regardless of personal interests, unaffected," he said.
Nolan agreed and said the Village's nearly 700-acre campus serves as "a lovely backdrop" to their guided daily tours. "Visitors can walk on the pathways that connect the Village's 25 restored original Shaker buildings and 4 reconstructed Shaker buildings," she said. "Visitors can also literally walk into nearby woods on our trails, which makes for an unforgettable experience."
Guided daily tours at the Village currently include Shaker Stories: History & Legacy, Innovations & Inventions: Shaker Ingenuity, and Hale & Hearty: Shaker Health. Guided tours are $25 for adults, $20 for group tours, and free for visitors 25 and under. To learn more about the Village, or purchase tickets, visit shakers.org.
About Canterbury Shaker Village

Featuring 694 acres of forests, fields, gardens, nature trails, and mill ponds under permanent conservation easement, the Village is designated as a National Historic Landmark with 25 restored original Shaker buildings and 4 reconstructed Shaker buildings. In addition to tours, exhibits, and programs, Canterbury Shaker Village provides wonderful, relaxing, and beautiful indoor and outdoor spaces for weddings and events.
Canterbury Shaker Village is a member of the NH Heritage Museum Trail, which connects the public with culturally rich heritage institutions in New Hampshire. For more information about The Trail, visit nhmuseumtrail.org.