Canterbury Shaker Village Reopens May 14
Saturday, May 14 marks Opening Day for Canterbury Shaker Village, which features 25 original and 4 reconstructed Shaker buildings set on nearly 700 acres of forests, open fields, and well-tended gardens.
"We are thrilled to welcome visitors back to our lovely campus," said Executive Director Leslie Nolan, who cited guided tours as "the best way" to explore The Village. "This year, our tours start with a new 8-minute film that provides a broad overview of the Shakers, so it's a wonderful way to get started."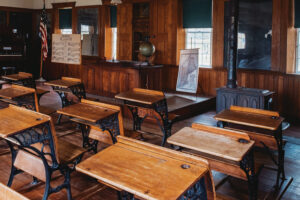 Currently, there are four available tours, which will be offered Tuesday – Sunday in May and June at 11 a.m., 1 p.m., and 3 p.m. Additional tours and times will be added throughout the season.  
In A Cultural Landscape: Village Design, visitors will learn about the Shakers' contributions to architectural design, landscaping, waterworks, and masonry. Shaker Stories: History & Legacy explores how the Shakers went from a misunderstood and persecuted people to one of the most successful religious communities in our nation's history. Other tours include Innovations & Inventions: Shaker Ingenuity and Hale & Hearty: Shaker Health.
"The Shakers were incredibly innovative and entrepreneurial," said Nolan. "Each of our tours provide an interesting, unique look into their way of life, which remained prominent for 200 years."
In addition to guided tours, Canterbury Shaker Village interprets Shaker life through exhibits, buildings, gardens, and programs. Canterbury Shaker Village is located at 288 Shaker Rd., Canterbury, New Hampshire, just south of Laconia and north of Concord.
Canterbury Shaker Village is a member of the NH Heritage Museum Trail, which connects the public with culturally rich heritage institutions in New Hampshire. For more information, visit nhmuseumtrail.org.