Canterbury Shaker Village to Host Artist Lesley Dill on Friday, June 10
On Friday, June 10 at 5:30 p.m., Canterbury Shaker Village will host artist Lesley Dill, whose exhibit, Wilderness: Light Sizzles Around Me, recently opened at the museum's Hubbard Gallery.
Featuring 8-foot tall sewn textile sculptures and hand-painted banners, the exhibit represents Dill's ongoing investigation into significant voices and personas of America's past. One of these personas includes Shaker Village Founder Mother Ann Lee for whom Dill expressed enthusiasm regarding her "visions."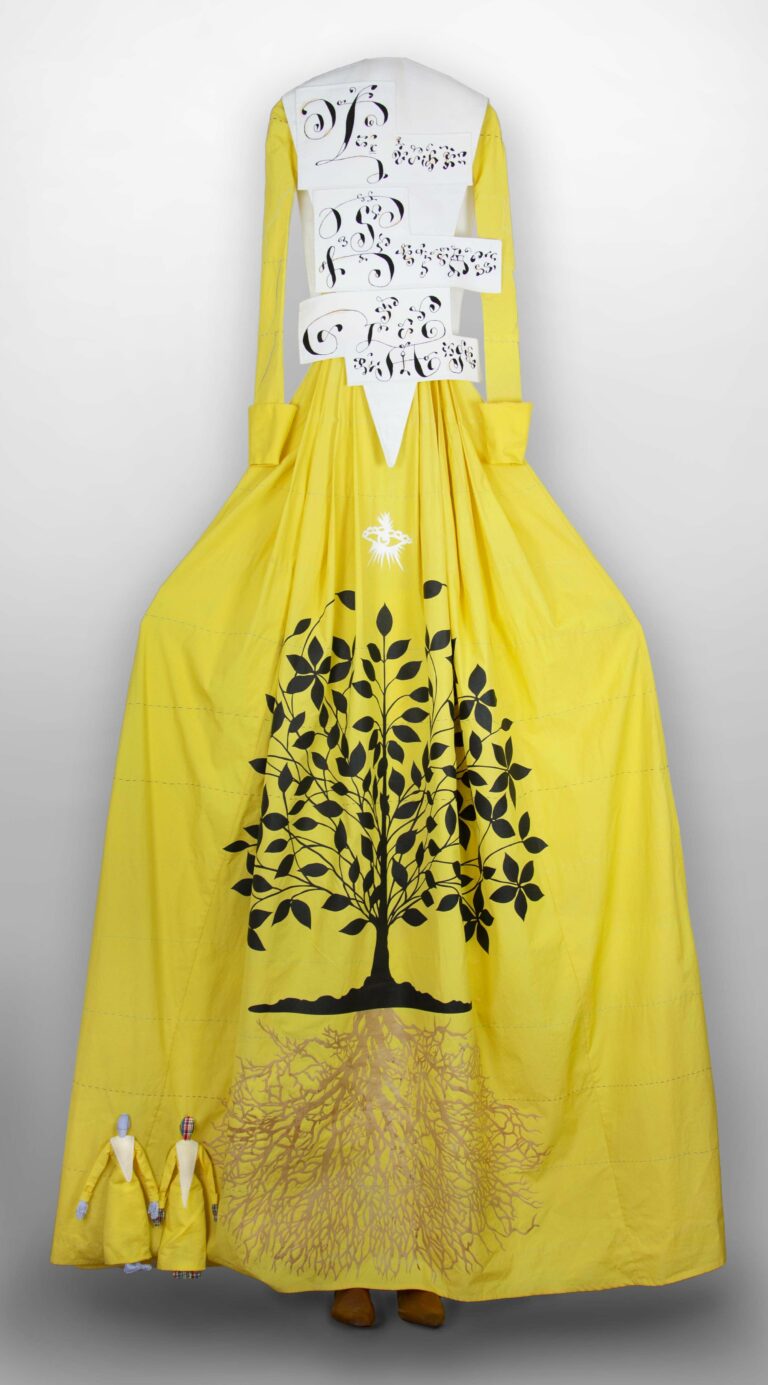 "Mother Ann Lee's way of worship included ecstatic dancing, singing, and speaking in tongues," noted Dill, who spent nearly a decade working on the various pieces that make up the exhibit. "The whirling visionary experiences of thousands of Shakers were balanced by strict rules of separation and celibacy."
At her talk at Canterbury Shaker Village, Dill will discuss why and how she came to create the exhibit. She will also provide insight into her use of 'wilderness' as a conceptual metaphor for "the exploration into unknown spaces of divinity and deviltry."
"The American voice in the North, at least, grew on New England settler obsessions with divinity and deviltry and on fears of the wilderness out there' and wilderness inside us," she said. "Both places were seen as more devil's world than divine." 
Such fear of wilderness was not shared by Native Americans. "What was fearful [to Native Americans] was the white European settlers who were trying to conquer them and take their land," said Dill, who said these extremes in viewpoint about wilderness helped shape history
In Wilderness: Light Sizzles Around Me, Dill explores how these viewpoints manifested in historical figures, some of whom include Nathaniel Hawthorne, John Brown, Sojourner Truth, Dred Scott, Sister Gertrude Morgan, Anne Hutchinson, Horace Pippin, and Black Hawk.
"How did they come to have voices that stand alone today and are the ones that are remembered," she rhetorically noted.
According to Dill, her initial interest in history was stoked by her love of the poetry of Emily Dickinson. "She wrote most of her poems during the American Civil War – what else did I not know?" said Dill, who became curious about other aspects of history, including her own. "My mother's family arrived in Massachusetts in 1636, which is concurrent with Anne Hutchinson's trial for heresy."
Describing each historical persona in her exhibit as "powerful, sizzling, even luminous, examples of American history," Dill said she hopes people who attend her talk will leave with a feeling of awe. "These individuals each had a moment where the universe, as God or Nature, was revealed to them," she said.
The artist reception with Lesley Dill takes place at Canterbury Shaker Village on Friday, June 10 between 5 and 7 p.m. Dill will speak at 5:30 p.m. after which time guests can meet Dill and enjoy wine and cheese. Admission is free.
Wilderness: Light Sizzles Around Me is available for viewing through September 12.
About Canterbury Shaker Village
Featuring 694 acres of forests, fields, gardens, nature trails, and mill ponds under permanent conservation easement, the Village is designated as a National Historic Landmark with 25 restored original Shaker buildings and 4 reconstructed Shaker buildings. In addition to tours, exhibits, and programs, Canterbury Shaker Village provides wonderful, relaxing, and beautiful indoor and outdoor spaces for weddings and events.
Canterbury Shaker Village is a member of the NH Heritage Museum Trail, which connects the public with culturally rich heritage institutions in New Hampshire. For more information about The Trail, visit nhmuseumtrail.org.