Canterbury Shaker Village To Offer Shaker Chair in a Box Workshop
Renowned for their minimalist and timeless design, Shaker chairs continue to serve as a source of fascination for visitors to Canterbury Shaker Village, which offers a chance to build one at an upcoming workshop. Shaker Chair in a Box Workshop will take place on Saturday, August 12 and Saturday, August 19 from 9:00 a.m. to 4:00 p.m.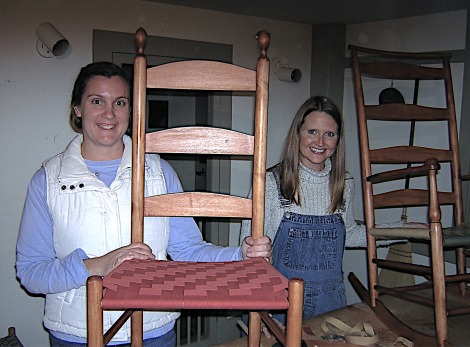 "If you've ever thought it would be fun to make your own Shaker chair, this is the workshop for you," said Executive Director Leslie Nolan.
On the first day (August 12), participants will assemble and prepare a Shaker chair kit and learn to apply a paint, oil, or stain finish. During the week, participants will complete the finishing at home. On August 19, participants will return to the Village to tape the seat. 
The chair kit and seat tape can be purchased from Shaker Workshops at shakerworkshops.com. The registration fee is $250 per person. "This is a fun experience where you not only build something you will have for years, but learn more about the fascinating history and culture of the Shakers themselves," added Nolan.
Shaker Chair in a Box Workshop takes place on Saturday, August 12 and Saturday, August 19 from 9:00 a.m. to 4:00 p.m. The cost is $250 for an adult and child.
About Canterbury Shaker Village
Featuring 694 acres of forests, fields, gardens, nature trails, and mill ponds under permanent conservation easement, the Village is designated as a National Historic Landmark with 25 restored original Shaker buildings and 4 reconstructed Shaker buildings. In addition to tours, exhibits, and programs, Canterbury Shaker Village provides wonderful, relaxing, and beautiful indoor and outdoor spaces for weddings. 
Canterbury Shaker Village is a member of the NH Heritage Museum Trail, which connects the public with culturally rich heritage institutions in New Hampshire. For more information about The Trail, visit nhmuseumtrail.org.