Canterbury Shaker Village Welcomes Summer Interns
Every summer, Canterbury Shaker Village welcomes college student interns, an experience described by Executive Director Leslie Nolan as "especially gratifying for staff. "College students come with fresh perspectives, new ideas, and enthusiasm," she said. "Summer is also incredibly busy, so their assistance helps to support staff when they really could use a boost."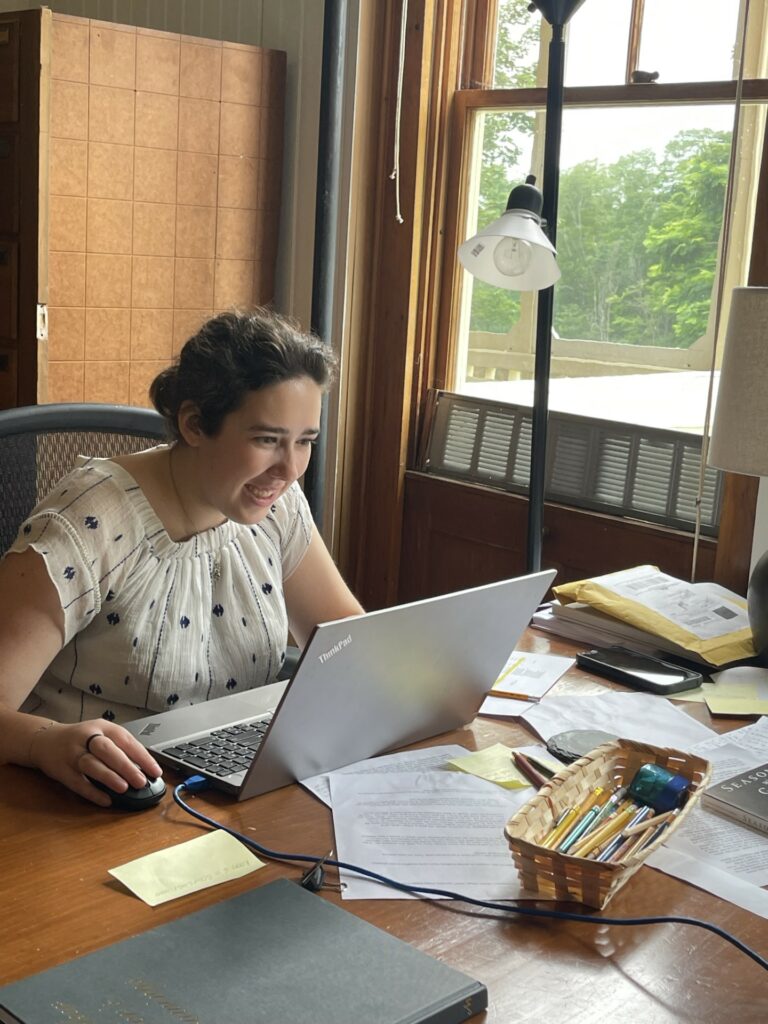 For Isabelle DeLisle, a senior at Stonehill College this upcoming fall who is majoring in anthropology and minoring in history, the opportunity to intern at the Village provides "a boost" to her understanding of her future.
"I am working here to learn more about curatorial work," she explained. "I am hoping to learn about Shakers and if I want to go into curatorial work in the future."
Her experience so far has been "amazing." "I love inventorying the artifacts and interacting with them," said DeLisle, who said one item in particular caught her eye. "We found some Victoria toilet paper holders while inventorying the Syrup Shop, which was very cool."
According to Nolan, her hope is that interns walk away from the Village with not just a deeper understanding of themselves, but also Shaker culture. "The Shakers emphasized communal living, celibacy, and a focus on simplicity, equality, and spiritual devotion, all of which challenged almost every mainstream ideal of American society at the time." said Nolan. "In fact, their views on Christianity shocked their contemporaries."
Citing current world events and attitudes, Nolan said the Shakers still have something to offer people today. "Their legacy lives on, and their contributions to religious history, music, and craftsmanship continue to be appreciated and studied," she said. "I think that is why the Village remains such a popular destination for college interns each summer."
About Canterbury Shaker Village
Featuring 694 acres of forests, fields, gardens, nature trails, and mill ponds under permanent conservation easement, the Village is designated as a National Historic Landmark with 25 restored original Shaker buildings and 4 reconstructed Shaker buildings. In addition to tours, exhibits, and programs, Canterbury Shaker Village provides wonderful, relaxing, and beautiful indoor and outdoor spaces for weddings. 
Canterbury Shaker Village is a member of the NH Heritage Museum Trail, which connects the public with culturally rich heritage institutions in New Hampshire. For more information about The Trail, visit nhmuseumtrail.org.