Artist Lesley Dill Brings History to Life at Canterbury Shaker Village
Renowned New York-based artist Lesley Dill brings historical and literary figures from America's past to life in Wilderness: Light Sizzles Around Me, a new exhibit at Canterbury Shaker Village that opened May 28. Featuring hand-painted, sewn textile sculptures and banners, the exhibit represents Dill's ongoing investigation into significant voices and personas of America's past, some of which include Dred Scott, Sojourner Truth, and Sauk warrior Black Hawk.
"When visitors see her impressive works, they will be in awe," said Leslie Nolan, Director at Canterbury Shaker Village.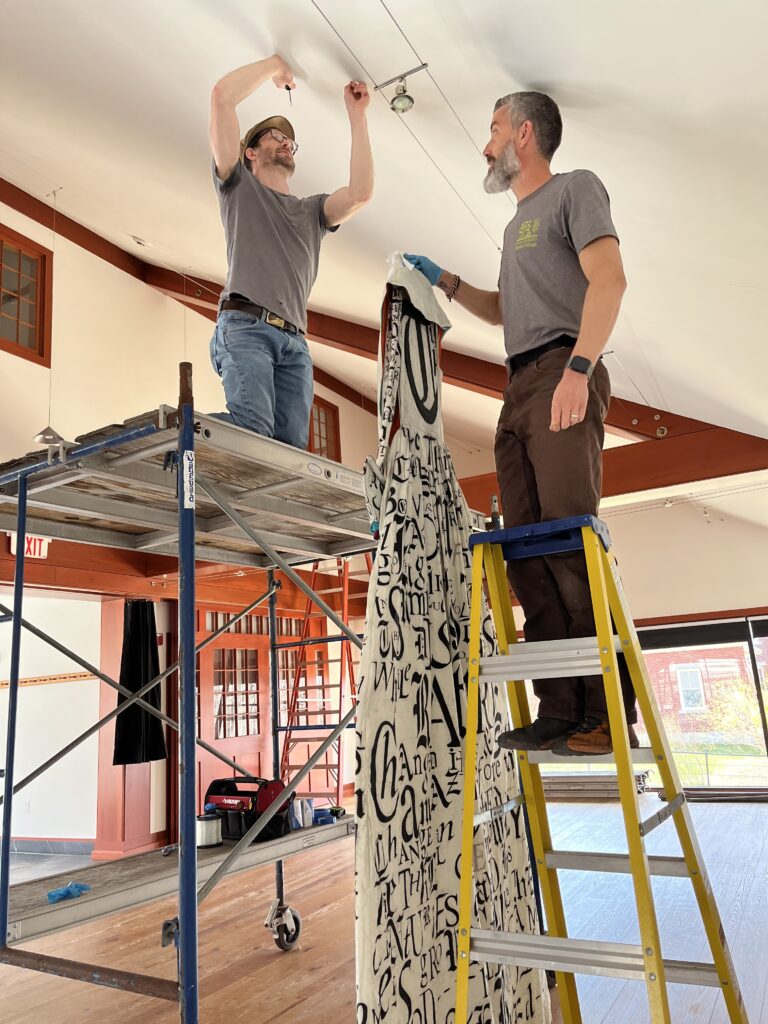 Suspended from the ceiling, each sculpture represents an historical figure, embellished with words and symbols drawn from their respective writings and experiences. Hand-painted banners hang on every wall of the gallery with additional text and imagery that further elaborate on their unique stories.
"The exhibit demonstrates how far we have come as a country and how far we have yet to go," added Nolan, who said Dill also features Mother Ann Lee, founder of the Shakers. "The purpose of Canterbury Shaker Village is to interpret Shaker life through exhibits, buildings, gardens, and programs, so this exhibit uniquely supports our mission."
According to Dill, there is a personal connection to many of the people represented in her exhibit, which has been shown in galleries across the country. "These personas and their times stir something deep in my own family history and sense of self," she said. "I was compelled to explore this period in America's history when limited access to a diversity of written word ignited the bravery of these figures in response to their times."
Nolan said The Village's Hubbard Gallery is "the perfect venue" for an exhibit of this scope. "The ceilings are high and the lighting is extraordinary. We routinely host weddings here, too, so our staff understands how to create space for important experiences – personal or cultural."
Wilderness: Light Sizzles Around Me is available for viewing through September 12.
About Canterbury Shaker Village
Featuring 694 acres of forests, fields, gardens, nature trails, and mill ponds under permanent conservation easement, the Village is designated as a National Historic Landmark with 25 restored original Shaker buildings and 4 reconstructed Shaker buildings. In addition to tours, exhibits, and programs, Canterbury Shaker Village provides wonderful, relaxing, and beautiful indoor and outdoor spaces for weddings and events.
Canterbury Shaker Village is a member of the NH Heritage Museum Trail, which connects the public with culturally rich heritage institutions in New Hampshire. For more information about The Trail, visit nhmuseumtrail.org.