Canterbury Shaker Village To Host Artisan Market
Featuring craft booths, Beans & Greens Taco Truck, guided tours, live music, and more, Canterbury Shaker Village's annual Artisan Market is an invitation to celebrate the past and look to the future.
"This event celebrates artisan, handcrafted work and the entrepreneurial, innovative spirit of the Shakers," noted Executive Director Leslie Nolan. "As the Shakers themselves might have said, 'We kindly welcome you.'"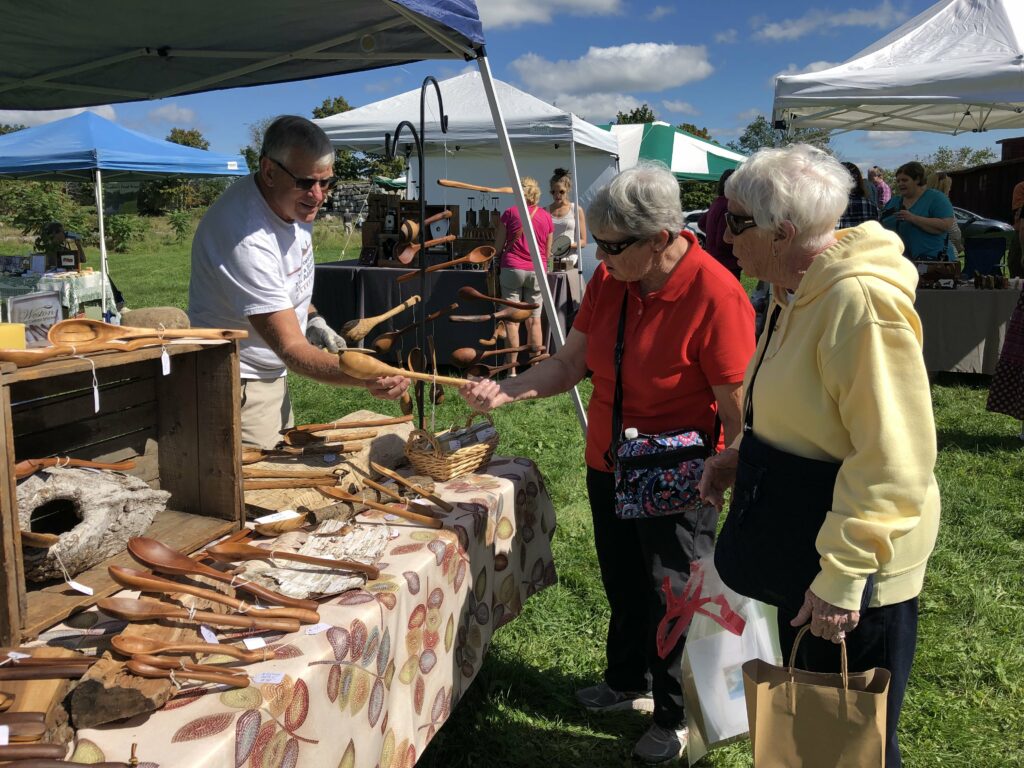 One of the highlights of the event, which takes place from 10:00 a.m. to 5:00 p.m. on Saturday, September 10, will be live music performed by The Mink Hills Band at 2:00 p.m. Taking its name from the beautiful and remote Mink Hills of the Sunapee region, the acoustic group has played bluegrass, swing, folk, and original compositions throughout northern New England for more than 20 years.
For those interested in possibly starting their holiday shopping early, the craft booth portion of the Artisan Market may be a proverbial one-stop shop. One of more than two dozen artisans who will be in attendance at the event, Vicki Chase, owner of Canterbury Soapworks, said she makes "cold process" soap. This process involves mixing lye (sodium hydroxide) with fats, oils and butters, such as olive oil, coconut oil, shea butter, and/or animal fats (lard or beef tallow). 
"The mixture of the lye and fats causes a chemical reaction, which results in soap," said Chase. "I continue to learn, and my methods are always evolving. I love the experimentation and novelty of trying new things."
Innovation, according to Nolan, reflects the spirit of the Shakers, whom she said "challenged almost every mainstream ideal of American society" during their time. "Shakers believed in communal ownership, pacifism, dancing in worship, equality of the sexes, celibacy, and living simply," she said. "These are concepts particularly relevant today."
During the Artisan Market, visitors can take guided tours of some of the more than 20 historic structures located at the Village, which was established in 1792. Prominent for 200 years, the Village resulted from a broader vision that impacted agriculture, technology, modern architecture, and design.
"The Shakers were fascinating people," added Nolan. "We hope our Artisan Market inspires visitors to learn more and explore our expansive grounds and nature trails while they are here." 
Admission to Canterbury Shaker Village's Artisan Market is $15 for adults, $10 for Village members, and free for all youth and young adults under age 25.
About Canterbury Shaker Village

Featuring 694 acres of forests, fields, gardens, nature trails, and mill ponds under permanent conservation easement, the Village is designated as a National Historic Landmark with 25 restored original Shaker buildings and 4 reconstructed Shaker buildings. In addition to tours, exhibits, and programs, Canterbury Shaker Village provides wonderful, relaxing, and beautiful indoor and outdoor spaces for weddings and events.
Canterbury Shaker Village is a member of the NH Heritage Museum Trail, which connects the public with culturally rich heritage institutions in New Hampshire. For more information about The Trail, visit nhmuseumtrail.org.