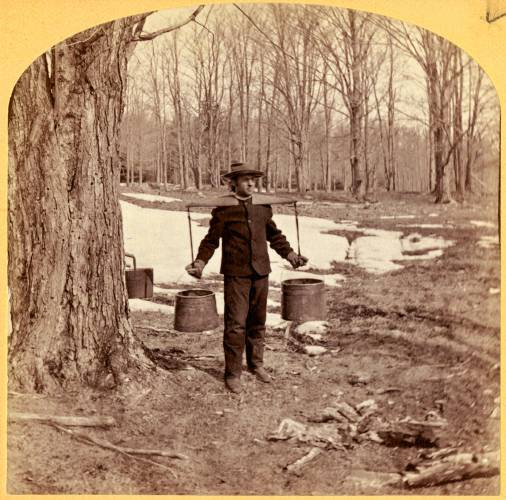 On Saturdays, March 18 and April 1, visitors will have the unique opportunity to explore the expansive grounds at Canterbury Shaker Village during its popular annual Sugar Camp Guided Hiking Tours.
On this exclusive tour, participants walk back in time through the remnants of a once thriving Shaker Village maple sugar camp. Throughout the 19th and 20th centuries, Shakers spent their early spring days gathering sap and their nights boiling maple syrup and making candy.
At the height of the American Civil War, the Shakers at Shaker Village set out nearly 1,200 wooden buckets to gather sap, which resulted in about 700 barrels of maple syrup. "The syrup was not only an important sweetener for the Shakers, but an important cash crop for sale to the outside world," noted Education Manager Kyle Sandler.
In addition to learning the history behind the sugar camp, participants will hear an excerpt from a journal entry written in the late 1880s by Shaker Brethren Nicholas Briggs, who describes life there. All participants will also receive a 1.7 ounce nip of maple syrup from North Family Farm and a maple candy.
Canterbury Shaker Village's Sugar Camp Guided Hiking Tour is 4-miles total in length and takes place on Saturday, March 18 and Saturday, April 1 from 1:00 p.m. to 4:00 p.m. The hike takes participants through the backcountry and is moderate with uphill portions. Sections of the trail may be covered in snow, ice, and/or mud, so appropriate attire is advised.
Tickets for the Sugar Camp Guided Hiking Tour are $25 for members and $50 for non-members. 
About Canterbury Shaker Village
Featuring 694 acres of forests, fields, gardens, nature trails, and mill ponds under permanent conservation easement, the Village is designated as a National Historic Landmark with 25 restored original Shaker buildings and 4 reconstructed Shaker buildings. In addition to tours, exhibits, and programs, Canterbury Shaker Village provides wonderful, relaxing, and beautiful indoor and outdoor spaces for weddings. 
Canterbury Shaker Village is a member of the NH Heritage Museum Trail, which connects the public with culturally rich heritage institutions in New Hampshire. For more information about The Trail, visit nhmuseumtrail.org.