Canterbury Shaker Village to Participate in NH Gives
On June 7 – 8, Canterbury Shaker Village will participate in NH Gives, a 24-hour period in which Granite Staters give back to the nonprofits that themselves give so much to communities throughout the state everyday.
"We are thrilled to be part of this incredible one-day event," said Director Leslie Nolan, who noted funds will support the purchase of a new truck and plow to help maintain the Village grounds year-round. "This truck and plow are essential to the maintenance of the grounds, especially during winter, and will assist in countless building restoration projects."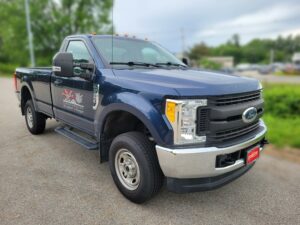 This year, donations made to the Village through NH Gives will be matched up to $20,000 by Louis A. Kaucic and John F. Swope, effectively tripling others' gifts up to that amount. In addition to the generous matching donations by Lou Kaucic and John Swope, the Village's NH Gives initiative is made possible by Grappone Automotive Group.
"Supporting our initiative through NH Gives enables us to continue to expand our reach as an educational and cultural institution of regional, if not national, importance," added Nolan. 
Established in 1792, Canterbury Shaker Village sits on 700 acres and represents one of the oldest, most typical, and most completely preserved of the Shaker Villages. Subscribing to a revolutionary Christianity that shocked their contemporaries, the Shakers challenged nearly every mainstream ideal of American society, believing in communal ownership, pacifism, dancing in worship, equality of the sexes, celibacy, and living simply.
Recently, Senator Maggie Hassan visited the Village to announce she is leading an effort to designate it as a National Historic Area. Such a designation would allow the Village to receive up to $1 million annually in federal funds. "We appreciate the Senator's support and appreciate anyone who can support our mission at any level," said Nolan.
To support the Village through NH Gives on June 7 – 8, visit nhgives.org/organizations/canterbury-shaker-village.
About Canterbury Shaker Village
Featuring 694 acres of forests, fields, gardens, nature trails, and mill ponds under permanent conservation easement, the Village is designated as a National Historic Landmark with 25 restored original Shaker buildings and 4 reconstructed Shaker buildings. In addition to tours, exhibits, and programs, Canterbury Shaker Village provides wonderful, relaxing, and beautiful indoor and outdoor spaces for weddings and events.
Canterbury Shaker Village is a member of the NH Heritage Museum Trail, which connects the public with culturally rich heritage institutions in New Hampshire. For more information about The Trail, visit nhmuseumtrail.org.