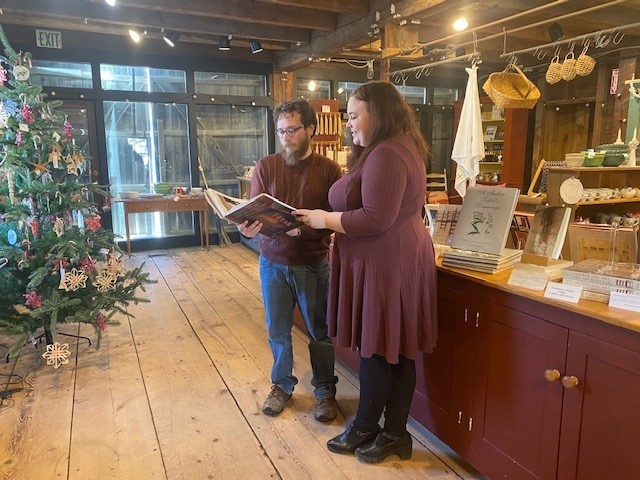 Education is an important part of the experience at Canterbury Shaker Village, which provides a variety of tours throughout its expansive campus. These tours will be enhanced this year at the Village, which reopens on Saturday, May 13, with a smartphone experience. This new smartphone tour will include historical and current photos and tell stories of some of the places on the property that are generally unreachable.
"We are excited to share with visitors new kinds of experiences and new interpretations of the Shakers and their lives," said Education Manager Kyle Sandler, who joined the Village in October. "My focus is on site-wide reinterpretation about the Shakers…We can illustrate over 200 years of history here, and that really excites me."
History also excites Visitor Services Manager Jamie Nikstad, who joined the Village last May and is working with Sandler on the smartphone tour. "The history of this place is incredible, and this new tour will give everyone a chance to explore and learn about the history of the Shakers at their own pace," she said. The Village's smartphone tours will be available in May. The tour will be free for members and available for nonmembers to purchase in the Village store.
"We are excited about the enthusiasm of our new staff, who are working very hard to reimagine how we present the Shakers to the public," said Executive Director Leslie Nolan.
Subscribing to a revolutionary Christianity that shocked their contemporaries, the Shakers challenged nearly every mainstream ideal of American society. "The public today does not realize the extent of their innovative way of life," added Nolan, who said Shaker beliefs were characterized by communal ownership, pacifism, dancing in worship, gender equity, celibacy, and living simply.
Sandler agreed and said the Village has "extraordinary potential to educate and inspire visitors of all ages." "There's different types of visitors and generations, so we're introducing a diverse audience to the Shaker legacy in a way that puts a human face on history," he said. "We are not making generalizations."
About Canterbury Shaker Village
Featuring 694 acres of forests, fields, gardens, nature trails, and mill ponds under permanent conservation easement, the Village is designated as a National Historic Landmark with 25 restored original Shaker buildings and 4 reconstructed Shaker buildings. In addition to tours, exhibits, and programs, Canterbury Shaker Village provides wonderful, relaxing, and beautiful indoor and outdoor spaces for weddings. 
Canterbury Shaker Village is a member of the NH Heritage Museum Trail, which connects the public with culturally rich heritage institutions in New Hampshire. For more information about The Trail, visit nhmuseumtrail.org.