Restoration Projects Take Center Stage at Canterbury Shaker Village
This year, Canterbury Shaker Village received financial support from several funders to begin an ambitious restoration of its Schoolhouse (c. 1823/63) that began this spring and will be completed next summer.
Funders of the project include The 1772 Foundation in cooperation with the N.H. Preservation Alliance, Cogswell Benevolent Trust, and Eppes-Jefferson Foundation. The project is also supported by money raised through NH Gives in 2020.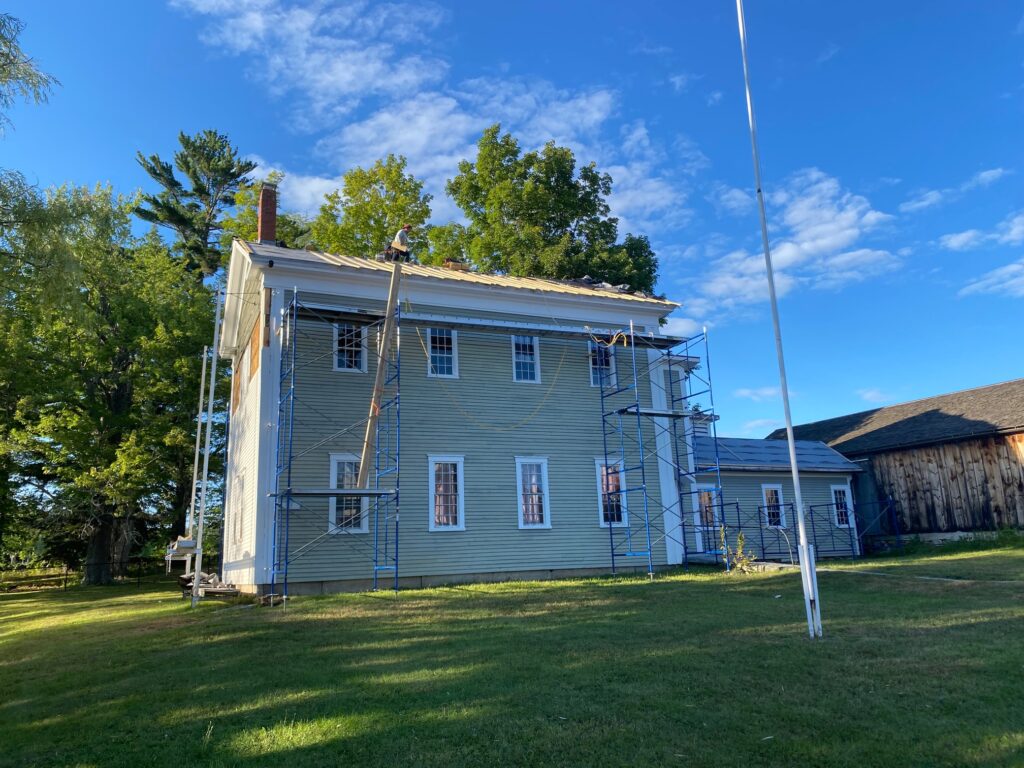 "We are so thankful for the funders whose support enabled us to begin restoration of our beloved Schoolhouse," said Executive Director Leslie Nolan. "I cannot thank them enough."
To date, a new roof has been installed on the Schoolhouse along with partial repainting of its exterior and replacement of 13 out of 26 windows. Other aspects of the project that will be completed this coming spring include repair and partial replacement of deteriorated clapboards, gutters, rainwater leaders, and other exterior features. The project is part of a Village-wide initiative to identify and address the needs of all 26 surviving Shaker buildings on the property.
"Like all the buildings on site, the Schoolhouse requires upkeep and thoughtful maintenance so it can be enjoyed by future generations," said Nolan. "The story of the Shakers is important and continues to inspire people today. Proper stewardship of the remaining buildings is key to our ability to help tell their story."
Regarding the history behind the Schoolhouse, it was originally built as a single story structure in 1823. In 1863, the 24 x 34 foot structure was moved three "rods" south to its present location and raised twelve feet to become the second story with a new school room built underneath. At the same time, a single bay enclosed stair porch was added to the second floor, and a wood shed was added to the east.
"Each of our buildings reveal a unique perspective on the Shakers and their lives," said Nolan. "We are eager to share our restored Schoolhouse hopefully in time for the opening of the 2023 season."
About Canterbury Shaker Village
Featuring 694 acres of forests, fields, gardens, nature trails, and mill ponds under permanent conservation easement, the Village is designated as a National Historic Landmark with 25 restored original Shaker buildings and 4 reconstructed Shaker buildings. In addition to tours, exhibits, and programs, Canterbury Shaker Village provides wonderful, relaxing, and beautiful indoor and outdoor spaces for weddings and events.
Canterbury Shaker Village is a member of the NH Heritage Museum Trail, which connects the public with culturally rich heritage institutions in New Hampshire. For more information about The Trail, visit nhmuseumtrail.org.