Stewards Day: Shaker Village Trails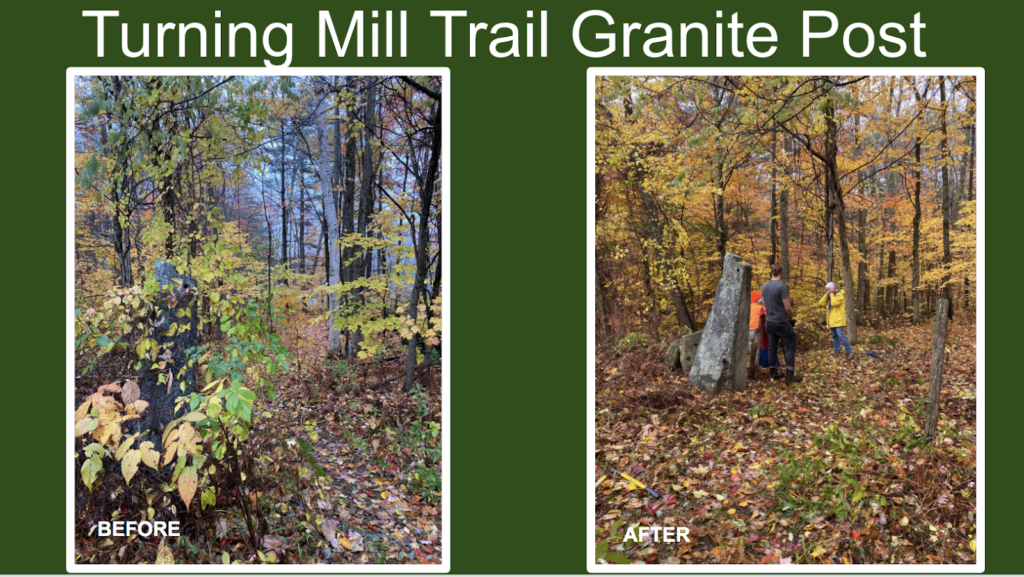 Stewards Day at CSV – October 21, 2020
By Jennifer J. Montgomery
Today was our first day of total focus on the Shaker Village Trails.  Despite a persistent light rain, we were keen to address invasive plants along the Turning Mill Pond Trail.  Phil, Rick, and Ann joined the team and all were prepared with rain gear, sturdy shoes, tools and masks for a great day on the Trail.
As agreed with the Village Garden Committee, we focused on removal of invasive plants along the trail, corner granite pillar and historic rock walls. Well established Asian bittersweet with thick trunks and noose tight vines clung to tree trunks and encircled branches to tree tops high above us.  The rock walls and granite pillar were difficult to see beneath successive years of bittersweet encroachment.  
We spread out along the path with our tools and set to tame the vines.  Using a power saw, Rick widened the trail to 10 feet by removing small saplings.  Our objective was to cut established bittersweet at the root, remove its vines and drag the brush into the forest.  We noted that a few of the older vines were beginning to embed themselves in the trunks of the trees.  Extra attention was given to set the trunks free.    
Phil and Rick used an extension saw to attack bittersweet that encircled a few of the at-risk branches located higher in the trees.  The rest of the team addressed the bittersweet that covered the granite stone pillar and rock wall.  Together, we pulled, pushed, sawed and clipped the vines away from tree trunks, branches and rocks. as a gentle rain fell and dripped through the trees to the floor of the forest.
It was another great day for the Stewards at the Shaker Village.  We know that you enjoy the "before-and-after" photos taken by Jenn Solms.  Work will continue next week as we address the bittersweet infestation of the rock wall at the orchard.  We hope you can join us.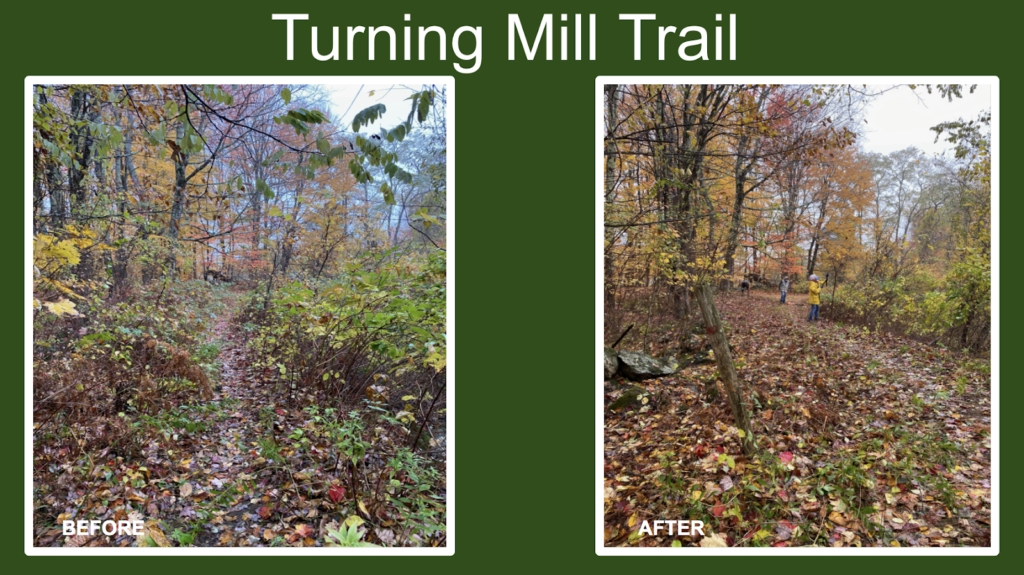 Join us next week as work continues to help restore the Village land for new and returning visitors at the Canterbury Shaker Village. 

Date:  Friday mornings 9:00 AM – 12:00 noon
Location:  Meet in the Shaker Village parking lot
Hosts: Mike Barwell, Jennifer Solms, Mary Lou Dopart (someone will be on-site each week)
Training Required:  All stewards are to view the training and follow its instructions.  It's filled with helpful information about protecting against virus transmission.   Here is the link to the training video.
Equipment:  The training recommends bringing you own equipment including gloves, trowels, rakes, etc.  Don't forget protection against inclement weather. 
Food: Bring your own water or beverage along with lunch or snacks.
Registration/Questions:  Jennifermontgomery@me.com