A focus to bring contemporary art to the Village through dance, theatre, visual arts, and music performances.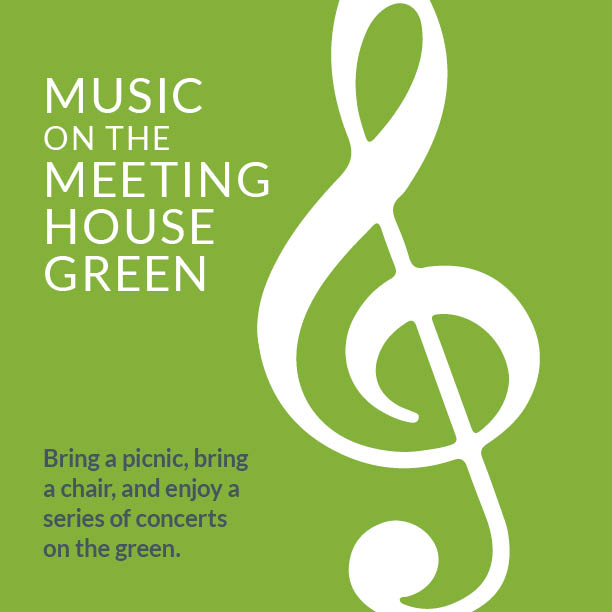 Music on the Meeting House Green
---
Sundays in the Summer  |  4:00–5:00pm
Bring a picnic, bring a chair, and enjoy a series of concerts on the green. Concerts will be held outdoors on the lawn leading to and surrounding the Meeting House. All types of music for all ages and performances will be amplified for optimal sound quality. Suggested donation of $10 per person. Parking is behind the barn as per the signs. 
June 20  |  The Spark: River Sister & Lorraine Chapman, The Company
June 27  |  Jim Dozet Duo
July 4  |  Kathy Lowe Canceled due to weather
July 11  |  River Sister
July 18  |  Bee Parks and The Hornets
July 25 | The Jordan TW Trio (Just added!)
August 1  |  The Wholly Rollers
August 8  |  Cellists Jan Fuller and Harel Gietheim
August 15  |  Suzuki Strings
August 22  |  Lara Herscovitch  Rescheduled for September 26
August 29  |  Mink Hills Band
September 5  |  Peabody's Coal Train
September 12  |  Aurea Ensemble
September 19  |  The Wholly Rollers 
September 26  | Lara Herscovitch
Learn more about Music on the Meeting House Green Performances.
Summer Artist-in-Residence (AIR) Program
The Artist in Residence program brings together contemporary artists to live at the Village while producing works that are inspired by the landscape and culture of the Shakers. Artists are given a workshop location within the Village and are encouraged to install existing works, as well as create new work. Throughout their residency, artists are expected to interact with visitors and discuss their creative process.
The goals of this program are:
To encourage artists who are inspired by the Canterbury Shakers and their architecture, traditional crafts, furniture, artistic endeavors, and the overall landscape of the Village.
To provide artists with a place to experiment with their artist practice and showcase new work.
To tap into and grow a new audience at the Village while providing new programming opportunities for local artists and creatives.

To offer visitors a different perspective and a new outlook on what kind of inspiration the Village can offer to local artists.
Recent Artists-in-Residence
2020 
Mikayla Scout Curtin
Hilary Irons
2019
Patrick Cunha
2018